Posts for tag: root canal treatment
By Candler Family Dentistry
July 27, 2019
Dental implants have soared in popularity thanks to their life-likeness, functionality and durability. But these prized qualities have also created an ironic downside—people are much more likely to replace a tooth with an implant rather than go through the time and effort to preserve it.
We say downside because even though an implant is as close to a real tooth as we can now achieve in dentistry, it still can't rival the real thing. It's usually in your long-term health interest to save a tooth if reasonably possible. And, there are effective ways to do so.
Most dental problems arise from two common oral diseases. One is tooth decay, caused by contact with acid produced by bacteria living in dental plaque. We can often minimize the damage by treating the early cavities decay can create. But if we don't treat it in time, the decay can advance into the tooth's pulp chamber, putting the tooth in danger of loss.
We can intervene, though, using root canal therapy, in which we drill into the tooth to access its interior. We clean out the decayed tooth structure, remove the diseased pulp tissue and fill the empty chamber and root canals to seal the tooth and later crown it to further protect it from re-infection.
Periodontal (gum) disease also begins with bacteria, but in this case the infection is in the gum tissues. Over time the ensuing inflammation locks into battle with the plaque-fueled infection. This stalemate ultimately weakens gum attachment, the roots and supporting bone that can also increases risk for tooth loss.
We can stop a gum infection through a variety of techniques, all following a similar principle—completely removing any accumulated plaque and tartar from the teeth and gums. This stops the infection and starts the process of gum and bone healing.
You should be under no illusions that either of these approaches will be easy. Advanced tooth decay can be complex and often require the skills of an endodontist (a specialist in root canals). Likewise, gum disease may require surgical intervention. But even with these difficulties, it's usually worth it to your dental health to consider saving your tooth first before you replace it with an implant.
If you would like more information on how best to treat a problem tooth, please contact us or schedule an appointment for a consultation. You can also learn more about this topic by reading the Dear Doctor magazine article "Save a Tooth or Get an Implant?"
By Candler Family Dentistry
July 02, 2016
Your tooth is in peril if its innermost layer, the pulp, becomes infected and inflamed. Deep tooth decay, repeated dental procedures or fractures can all expose the pulp and ultimately the roots to infection and lead to tooth loss.
But that scenario isn't inevitable — we can often save the tooth with a root canal treatment. By accessing the tooth's interior through a prepared hole, we're able to clean out the infected tissue in the pulp chamber and root canals, and fill the empty space with a special filling. We then cap the tooth with a custom crown to protect it from a re-infection.
Root canal treatments have a very high success rate — chances are good your tooth will survive for many years afterward. But there's a slight chance the tooth may become re-infected; in that case, a second root canal treatment may be in order.
In a few cases, though, a second root canal may not be advisable, and could even accelerate damage to the tooth. For example, if past dental work resulted in an extensive crown restoration, accessing the root canals the conventional way will require disassembling that restoration. This could weaken the tooth significantly.
We can approach the problem from a different route: instead of accessing the tooth's interior through the crown (the visible part of the tooth), we instead perform a surgical procedure called an apicoectomy, which accesses the tooth at the root end through the gums.
In this procedure we numb the area with local anesthesia and then make a small incision through the gums at the level of the affected root. After access, we remove any diseased tissue around the root and a few millimeters of the root tip itself. We then insert a small filling in its place to seal the canal and prevent further infection. In some cases we may also insert a graft to encourage bone growth and aid in healing.
Over time, the affected area will heal and return to normal function. Even if a traditional root canal treatment can't be used, an apicoectomy could be another option for saving your tooth.
If you would like more information on your options for preserving a problem tooth, please contact us or schedule an appointment for a consultation. You can also learn more about this topic by reading the Dear Doctor magazine article "Apicoectomy."
By Candler Family Dentistry
June 02, 2016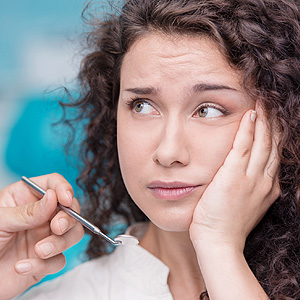 Root canal treatment can be an effective life preserver for a heavily decayed tooth. The question a lot of people ask, though, is how long might the tooth survive after treatment.
That's an important concern since the treated tooth was in dire straits beforehand as decay had infected its inner most layer, the pulp. The infection, which had caused the living bundles of nerves, blood vessels and connective tissue within to become inflamed and diseased, was poised to invade even deeper through the root canals. During the root canal treatment, the infected pulp tissue is removed and the empty chamber and root canals are filled with a special filling to seal the tooth from further infection.
The protection, though, isn't an absolute certainty: how long a treated tooth survives depends on a number of factors. For one, the earlier a diseased tooth can be initially diagnosed — especially if the infection hasn't spread into the jawbone — the better the procedural outcome. Likewise, the chances of longevity are also better if the initial root canal treatment was thorough in identifying and filling all the root canals as well as capping the tooth with a life-like crown in a timely manner after treatment.
The type and location of the tooth can also affect its long-term health. Front teeth, with their single roots and canals are easier to access and treat. Back teeth, by contrast, can have two or more roots and a more intricate canal network. These kinds of complications could require the use of special microscopic equipment and the expertise of an endodontist, a specialist in root canals.
Even if a re-infection occurs, the tooth isn't necessarily lost. A repeat root canal treatment that addresses these and other issues, could give the tooth a "third" chance. In any case, if a tooth is worth saving attempting a root canal treatment is generally preferable to losing the tooth and replacing it with a prosthetic tooth — it's well worth the try.
If you would like more information on root canal treatments, please contact us or schedule an appointment for a consultation. You can also learn more about this topic by reading the Dear Doctor magazine article "Root Canal Treatment: How Long Will it Last."