Posts for: September, 2018
By Candler Family Dentistry
September 20, 2018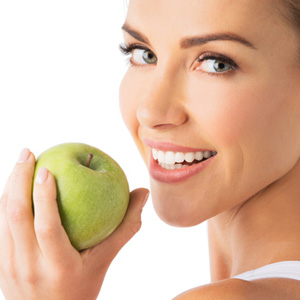 If you're brushing and flossing daily, as well as seeing your dentist at least every six months, you're doing the top things needed to maintain your dental health. But all your hygiene efforts could be undermined if you're not eating a dental-friendly diet. Simply put, there are foods that protect and promote dental health and those that increase your risk of dental disease.
Diets in the latter category are typically high in added sugar and low in natural food fiber. The largest sources of these are processed sugars from sugar cane or beets and high fructose corn syrup. With just a little knowledgeable label reading, you can find sugar and its various aliases added to thousands of processed food items including pastries, candies, sodas and energy drinks.
Heavy consumption of processed sugars also contributes to dental disease. Disease-causing bacteria thrive on sugar as a food source, which fuels both their growth and their production of oral acid. Elevated acid levels can dissolve the minerals in tooth enamel faster than saliva can keep up. Softened enamel opens the door to tooth decay, while increased bacterial growth can lead to periodontal (gum) disease.
A diet, however, low in added sugar and high in fiber can have the opposite effect. Although fresh fruits and vegetables contain natural sugars, they also have indigestible parts called fiber that slow the digestion of any sugars and allow the body to more efficiently process them.  With the higher quantity of vitamins and minerals found in unprocessed foods, the overall effect of this diet is a decrease in your risk for dental disease.
Speaking of dental-friendly foods, we should also give honorable mentions to certain dairy items like cheese and milk that stimulate saliva production and are rich in calcium needed for tooth strength. Another beneficial category is both black and green tea, which contain antioxidants to fight disease and fluoride to strengthen enamel.
Adopting a low-sugar/high-fiber diet can have a profound impact on your overall health. Over time, you'll also reap dental health rewards with stronger teeth and gums and a lower risk of tooth decay and gum disease.
If you would like more information on diet and oral health, please contact us or schedule an appointment for a consultation. You can also learn more about this topic by reading the Dear Doctor magazine article "Nutrition & Oral Health."
By Candler Family Dentistry
September 10, 2018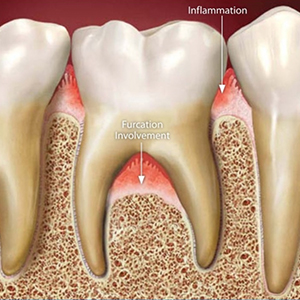 Periodontal disease may start in the gums' superficial layers, but it's not likely to stay there. As the disease moves deeper it can wreak havoc on tooth roots and bone as well as gum tissue attachments. Teeth with multiple roots are in particular peril because of the "forks" called furcations that form where the roots separate from each other. Infected furcations can be very difficult to treat.
We primarily treat gum disease by removing its main source, a thin film of bacteria and food particles called dental plaque that builds up on teeth. To remove it we most often use special hand tools or ultrasonic equipment to vibrate it loose. As the plaque and tartar diminish, the infection begins to wane.
But we can't be completely successful in stopping the disease if any lingering plaque deposits remain. This especially includes furcations where the infection can cause significant damage to the roots. Although cleaning furcations of plaque can be difficult, it's not impossible with the aforementioned tools and antimicrobial substances to disinfect the area.
The real problem, though, is access—effectively getting to the furcations to treat them. We may need to perform a surgical procedure called flap surgery where we create a hinged flap in the gum tissue to move it aside and access the root area beneath. Afterward we replace the flap and suture the tissue back in place.
In some cases, the infection may have already caused significant damage to the tissue and underlying bone. We may therefore need to graft gum or bone tissues to these damaged areas to stimulate re-growth. We may also need to surgically reshape the gum attachments around a tooth to make it easier in the future to access and clean the area.
These additional treatments around furcations can be very involved and labor-intensive. That's why the best outcomes occur if we're able to start treatment in the early stages of an infection. So, if you notice red, swollen or bleeding gums contact your dentist as soon as possible. Treating gum disease as early as possible will help ensure your tooth roots won't suffer extensive damage.
If you would like more information on treating gum disease, please contact us or schedule an appointment for a consultation. You can also learn more about this topic by reading the Dear Doctor magazine article "What are Furcations? Branching Tooth Roots can be Periodontal Nightmares."