Posts for: February, 2021
By Candler Family Dentistry
February 20, 2021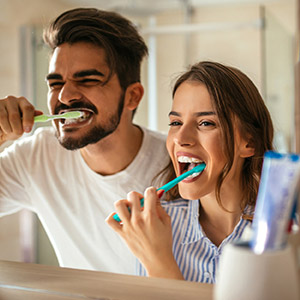 Tooth decay is a destructive disease that could rob you of your teeth. But it doesn't appear out of nowhere—a number of factors can make it more likely you'll get cavities.
But the good news is you can be proactive about many of these factors and greatly reduce your risk of tooth decay. Here are a few questions to ask yourself to point you in the right direction for preventing this destructive disease.
Do you brush and floss every day? A daily habit of brushing and flossing removes buildup of dental plaque, a bacterial film on teeth that's the top cause for tooth decay and periodontal (gum) disease. Hit or miss hygiene, though, can greatly increase your risk for developing a cavity.
Do you use fluoride? This naturally occurring chemical has been proven to strengthen tooth enamel against decay. Many locations add fluoride to drinking water—if your area doesn't or you want to boost your fluoride intake, use toothpastes, mouthrinses or other hygiene products containing fluoride.
Do you smoke? The nicotine in tobacco constricts blood vessels in the mouth so that they provide less nutrients and antibodies to the teeth and gums. Your mouth can't fight off infection as well as it could, increasing your risk of dental diseases like tooth decay.
Do you have dry mouth? This isn't the occasional bout of "cotton mouth," but a chronic condition in which the mouth doesn't produce enough saliva. Saliva neutralizes mouth acid, so less of it increases your risk for decay. Chronic dry mouth can be caused by medications or other underlying conditions.
Do you snack a lot between meals? Sugary snacks, sodas or energy drinks can increase oral bacteria and acidity that foster tooth decay. If you're snacking frequently between meals, your saliva's acid neutralizing efforts may be overwhelmed. Coordinate snacking with mealtimes to boost acid buffering.
You can address many of these questions simply by adopting a daily habit of brushing and flossing, regular dental cleanings and checkups, and eating a healthy, "tooth-friendly" diet. By reducing the risk factors for decay, you can avoid cavities and preserve your teeth.
If you would like more information on preventing tooth decay, please contact us or schedule an appointment for a consultation. You can also learn more about this topic by reading the Dear Doctor magazine article "Tooth Decay: How to Assess Your Risk."
By Candler Family Dentistry
February 10, 2021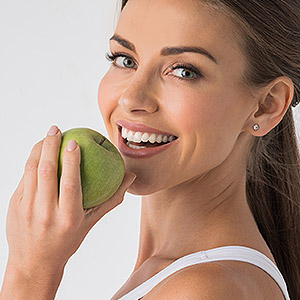 You're more apt to lose teeth because of periodontal (gum) disease and tooth decay than any other cause. But neither of these bacterial diseases have to happen: You can prevent them through daily brushing and flossing and twice-a-year dental cleanings.
But that's not all: You can also boost your dental care practices by eating foods that strengthen and protect teeth. On the other hand, a poor diet could reduce the effectiveness of your oral hygiene practices in preventing tooth decay or gum disease.
A diet that might lead to the latter is often high in refined sugar (sucrose), often added to processed foods and snacks to improve taste. But sucrose is also a top food source for oral bacteria, increasing their numbers when it's readily available. A higher bacterial population greatly increases your risk for tooth decay or gum disease.
On the other hand, certain foods benefit your overall dental health. Fresh fruits and vegetables, for example, are filled with nutrients and minerals like vitamin D or calcium that strengthen teeth against disease. And although they can also contain natural sugars, these don't pose the same problems as added sucrose due to the plant fiber you consume with them.
Dairy foods can also help you maintain healthy teeth and gums. Milk and cheese contain minerals like calcium and phosphorus, and a protein called casein, all of which strengthen teeth against decay. The enzymes in cheese stimulate saliva, which in turn neutralizes mouth acid and prevent it from harming enamel.
Some foods are also natural sources of fluoride, a mineral that strengthens tooth enamel. One example is black tea, which also, along with green tea, contains antioxidants that protect against cancer.
The best strategy for "tooth-friendly" nutrition is to pursue a diet that's high in fiber-rich natural foods and low in sugar-added processed foods. In practice, you'll want most of your diet to consist of fresh fruits and vegetables and low-fat dairy food, while minimizing foods with added sugar.
Following this kind of diet will certainly benefit your overall health. But it will also make it easier for you to prevent dental disease and keep your teeth and gums healthy.
If you would like more information on how nutrition can boost your dental health, please contact us or schedule an appointment for a consultation. You can also learn more about this topic by reading the Dear Doctor magazine article "Nutrition & Oral Health."