Posts for tag: tmj disorders
By Candler Family Dentistry
May 21, 2021
Temporomandibular joint disorder (TMD) is an umbrella term for a number of chronic jaw problems. These conditions cause recurring pain for 10 to 30 million Americans, especially women of childbearing age.
But even after decades of treatment and research, a full understanding of TMD's underlying causes eludes us. That doesn't mean, however, that we haven't made progress—we have indeed amassed a good deal of knowledge and experience with TMD and how best to treat it.
A recent survey of over a thousand TMD patients helps highlight the current state of affairs about what we know regarding these disorders, and where the future may lie in treatment advances. Here are a few important findings gleaned from that survey.
Possible causes. When asked what they thought triggered their TMD episodes, the top answers from respondents were trauma, stress and teeth clenching habits. This fits in with the consensus among experts, who also include genetic disposition and environmental factors. Most believe that although we haven't pinpointed exact causes, we are over the target.
Links to other disorders. Two-thirds of survey respondents also reported suffering from three or more other pain-related conditions, including fibromyalgia, rheumatoid arthritis and chronic headaches. These responses seem to point to possible links between TMD and other pain-related disorders. If this is so, it could spur developments in better diagnostic methods and treatment.
The case against surgery. Surgical procedures have been used in recent years to treat TMD. But in the survey, of those who have undergone surgery only one-third reported any significant relief. In fact, 46% considered themselves worse off. Most providers still recommend a physical joint therapy approach first for TMD: moist heat or ice, massage and exercises and medications to control muscle spasms and pain.
These findings underscore one other important factor—there is no "one size fits all" approach to TMD management. As an individual patient, a custom-developed action plan of therapy, medication, and lifestyle and diet practices is the best way currently to reduce the effects of TMD on your life.
If you would like more information on TMD management and treatment, please contact us or schedule an appointment for a consultation. You can also learn more about this topic by reading the Dear Doctor magazine article "Chronic Jaw Pain and Associated Conditions."
By Candler Family Dentistry
March 02, 2021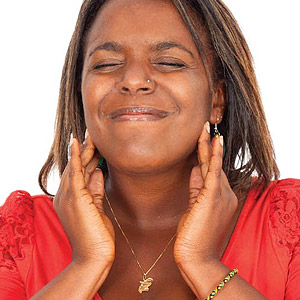 Chronic joint pain (temporomandibular joint disorder or TMD) in and of itself can make life miserable. But TMD may not be the only debilitating condition you're contending with—it's quite common for TMD patients to also suffer from fibromyalgia.
Fibromyalgia is a condition with a variety of muscular and neurological symptoms like widespread pain, joint stiffness, headaches and tingling sensations. These symptoms can also give rise to sleep and mood disorder, as well as difficulties with memory. Fibromyalgia can occur in both males and females, but like TMD, it's predominant among women, particularly those in their child-bearing years.
In the past, physicians were mystified by these symptoms of body-wide pain that didn't seem to have an apparent cause such as localized nerve damage. But continuing research has produced a workable theory—that fibromyalgia is related to some defect within the brain or spinal cord (the central nervous system), perhaps even on the genetic level.
This has also led researchers to consider that a simultaneous occurrence of TMD and fibromyalgia may not be coincidental—that the same defect causing fibromyalgia may also be responsible for TMD. If this is true, then the development of new treatments based on this understanding could benefit both conditions.
For example, it's been suggested that drugs which relieve neurotransmitter imbalances in the brain may be effective in relieving fibromyalgia pain. If so, they might also have a similar effect on TMD symptoms.
As the study of conditions like fibromyalgia and TMD continues, researchers are hopeful new therapies will arise that benefit treatment for both. In the meantime, there are effective ways to cope with the symptoms of TMD, among them cold and hot therapy for inflamed jaw joints, physical exercises and stress reduction techniques.
The key is to experiment with these and other proven therapies to find the right combination for an individual patient to find noticeable relief. And perhaps one day in the not too distant future, even better treatments may arise.
If you would like more information on the connection between TMD and other chronic pain conditions, please contact us or schedule an appointment for a consultation. You can also learn more about this topic by reading the Dear Doctor magazine article "Fibromyalgia and Temporomandibular Disorders."
By Candler Family Dentistry
September 15, 2019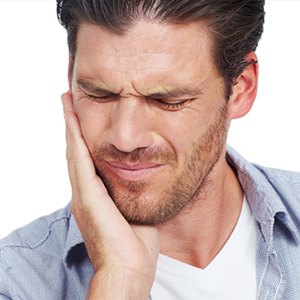 Chronic pain affects the quality of life for an estimated 50 million adults in the U.S. alone. The American Chronic Pain Association designates September as "Pain Awareness Month" to highlight the many conditions that cause chronic pain and strategies to manage them. Among these are conditions that can involve your oral or facial health. Here are two painful mouth and face disorders and what you can do about them.
Temporomandibular Joint Disorder (TMD). TMD is a common condition often seen in the dental office. The temporomandibular joints connect the lower jaw to the skull and facilitate activities like eating or speaking that require jaw movement. If they and their associated muscles become inflamed, this can trigger debilitating chronic pain. If you suffer from TMD symptoms, make sure we know about it so we can make your dental visits as comfortable as possible.
When possible, avoid irreversible and invasive treatments for TMD that may permanently change your bite, such as surgery or having teeth ground down. Instead, most healthcare professionals recommend a more conservative approach. Try the following tips to alleviate TMD pain:
Eat soft foods so you do not aggravate the jaw joint.
Avoid extreme jaw movements like suddenly opening your mouth very wide.
Use ice packs and moist heat to relieve discomfort.
Ask us about jaw exercises to stretch and relax the jaw.
Practice stress-reduction techniques, such as meditation, yoga, tai chi or taking short walks to clear your mind.
Burning Mouth Syndrome. The sensation that the mouth has been burned or scalded without an obvious cause is most common among women during menopause. While researchers can't yet pinpoint clear causes for it, the list of suspects includes hormonal changes, neurological or rare autoimmune disorders or medication-induced dry mouth.
The first step to treatment is an oral exam along with a complete medical history to identify any possible contributing factors. Depending on the results, we can offer recommendations to manage your symptoms. The following tips often help:
Keep your mouth moist. We can recommend an artificial saliva product or medication to increase saliva flow if needed.
Change your toothpaste if it contains irritating ingredients.
Identify and avoid foods and beverages that seem to precede an episode. These may include spicy foods, coffee and alcoholic beverages.
Quit smoking, as this is often linked to burning mouth episodes.
The pain and discomfort caused by these and other oral conditions can put a dent in your life. A visit to your dentist, though, could be the first step to finding relief.
If you would like more information about oral conditions that produce chronic pain, please contact us or schedule a consultation. To learn more, read the Dear Doctor magazine articles "Seeking Relief From TMD" and "Burning Mouth Syndrome."